By Kim Riesbeck/Villager
Joseph Pimentel and fourth-grader Meghan Freutel gallop down the column
as they all perform a dance called the Gallopede. Pimentel worked with
physical education teacher Traci Grissom's classes.
Scottish Corners Elementary plans family dance for March 23
By CANDACE L. PRESTON
Villager Staff Writer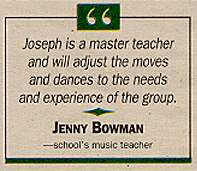 Grab your partner and do-si-do.
That "call" and several others will be heard at the first-ever Scottish corners Family dance Night on March 23.
From 7-9 p.m., caller Joseph Pimentel will lead students and their parents through a sequence of traditional American dances, including some square and longways dances, said the school's music teacher, Jenny Bowman.
After a few basic moves, the dances will become increasingly difficult, she said. Pimentel is at the school this week working with students in their physical education classes to teach them the moves associated with each dance.
"Joseph is a master teacher and will adjust the moves and dances to the needs and experience of the group," said Bowman. "Everyone will feel successful."
Bowman compared the Family Dance Night to the old-time community dances that were popular before modern entertainment -- such as 18-screen movie theatres and home videos -- became popular.
Music for the night will be provided by "Changeling," a husband and wife duo who play the fiddle and guitar.
---
Story and picture reproduced with permission from the Dublin Villager This Week newspaper, March 21, 2001.
---
Houston, Texas yusuf at umich dot edu